Edgewood Locker currently has six owners. Two of the owners are second generation, while four are third generation. Our third generation is working hard to continue to grow the business, while remaining committed to providing high quality meat products to our custom, retail and wholesale customers.  Having six owners has great advantages, as each owner is able to excel and contribute to the business in their own way.
Owners are pictured with their family and include: Joan Kerns (retired), Jim Kerns, Terry Kerns, Luke Kerns, Katie Anderson, Baili Maurer, & Payson Kerns
At the Edgewood Locker, our office team is cross trained in, and excel in many different tasks.  This crew takes care of the customers that walk in the door or call, invoicing, taking retail orders, taking custom orders, ordering supplies, maintaining lists for production, accounting, human resources, and much more!  Call us today to see what we can do for you!
Our packaging team is committed to packaging and labelling your product efficiently, while keeping food safety as a top priority.  This team packages most all of the products that go out our front door, whether it be your custom beef, pork, or deer, or items that you pick up from our retail store.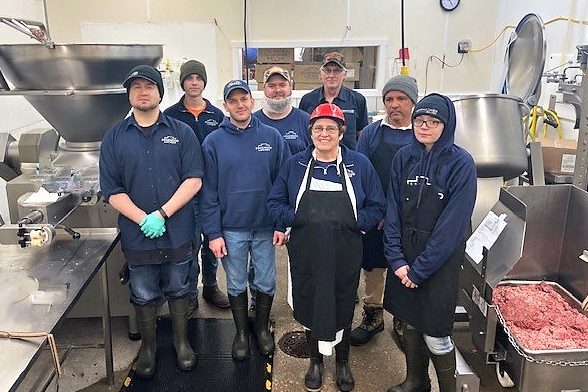 Our sausage making crew is responsible for the crafting of the delicious sausages that we process.  Everything that gets mixed in our mixer, or stuffed into casings goes through this department.  They even help with the smoking and curing of our award winning hams and bacon!  Creating these products takes skill, and isn't always just as simple as following a recipe.  For anybody who has ever looked through our window into our processing area, this is the team you will see first!
The cutting & trimming team is responsible for taking a whole beef, pork, lamb, or deer carcass, and turning it into steaks, roasts, and ground meat.  They are very skilled, and know exactly how to make the highest quality cuts for you to eat at home.  In addition to trimming meat off of bones, they also trim fat off of the scraps in order to aim for a desired leanness.  This team is also responsible for cutting the fresh beef and pork cuts that we have available in our retail store.
This hard working crew  takes care of the first steps  of meat processing at the Edgewood Locker. They are responsible for humanely unloading and euthanizing the animals that are brought in. They then prepare the carcasses to be hung on the rail by removing inedible parts of the animal and splitting the carcasses in half. Once on the rail they thoroughly wash the carcasses.
The Sanitation Team is tasked with making sure our facility gets cleaned and sanitized every night. They make sure all equipment, walking mats, floors, and walls are all cleaned completely, and spotless when they are all done.  When you visit us you won't see this team, but they are equally as important, and a vital part of food safety at Edgewood Locker.